Obi Jabot Gingham x Lace Dress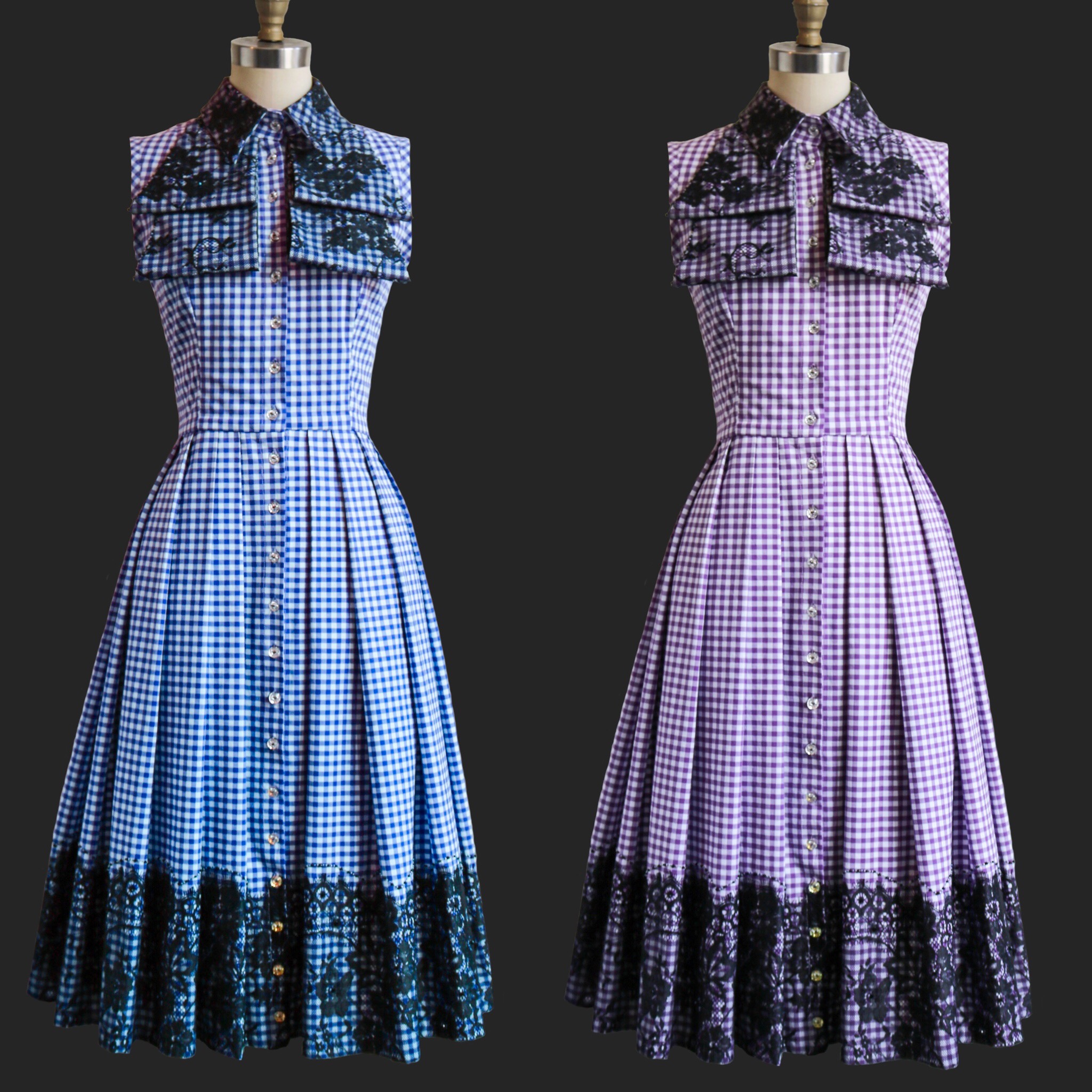 Obi Jabot Gingham x Lace Dress
The unique neckline was inspired by the 17th century Japanese high courtesan's way to tie an Obi. The overlay of the black lace embroidered with Swarovski Jet crystals will undoubtedly give an usually informal Gingham dress an updated richness and depth. This dress will brighten up your work day, sparkle during cocktail hour, and elegantly accompany you to dinner.
The traditional Banshu Ori Cotton Gingham is exclusively imported from Japan. The area holds a history of 220 years of weaving this Basnhu Ori, and practices green production of the fabric.
Fit and flare pleated full skirt dress with fully functioning Swarovski buttons all the way down the front.
Wear it with a crinoline underneath for a fit and flare classic silhouette, or unbutton the skirt part and wear it with a pair of close fitting capris pants for a more casual look.
Material. Light weight 100% traditional Banshu weave cotton, exclusively imported from Japan for Maison Murasaki, lined in light weight cotton blend, soft nylon lace for optimal drape.

Lined bodice.

Hand applied Black lace.

Hand beaded with over 300 Swarovski Jet Crystals and over 1,000 Japanese glass beads.

Front button opening with 21 Swarovski Clear Crystal buttons.

Made to measure. Please submit THIS FORM in time of ordering.
Colors. Please choose from Cobalt Blue or Lilac.
Current production time is 6-8 weeks on this dress. Order dead line is January 3rd 2019.
You can choose your payment options....
Full payment upfront (via this website)

50% deposit upfront, 50% before shipping (please email us, and we will set you up via Paypal Invoice)

A payment plan of up to 4 payments. (please email us, and we will set you up via Paypal Invoice)
For more payment information, please read this page.